---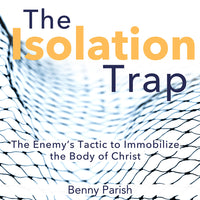 In an increasingly unstable world, isolation may feel like a logical measure to protect oneself from either physical harm or social challenges. But what is really at the root of it, and why is it so dangerous? Could it be that we're playing into a devious strategy of the enemy that extends beyond our personal issues with the intent to immobilize the Body of Christ?
In this teaching, Pastor Benny Parish exposes the enemy's scheme to separate and divide the Body of Christ using fear and isolation as a treacherous weapon. He reveals the root issue that draws us into isolation and provides real solutions to escape from that snare of the enemy and to walk out into godly fellowship. Discover your value as an individual within the Body of Christ and be challenged by Biblical truth that can help unite us as God's people and make us stronger than ever – together!
Now, more than ever, the members of the Body of Christ need to show up and be united to fulfill God's purposes in the earth. God has great plans for the Church; are we prepared to participate with His revival?