---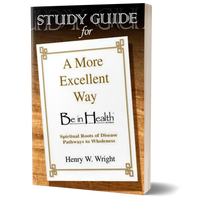 A More Excellent Way Study Guide
This study guide will help you apply the principles of the book, A More Excellent Way®, to lead you to paths of healing and wholeness.
Here are a few of the topics discussed:
Purpose and Insights
Spiritually Rooted Disease
Bitterness
Separation (Romans 7)
8Rs to Freedom
Gifts of the Holy Spirit
Fear, Stress, and Physiology
Discussion of Specific Diseases
Spiritual Blocks to Healing
Pathways to Spiritual Wholeness
7 Steps to Sin
Walk Out to Wholeness
This is for the LATEST editions of A More Excellent Way, copyrighted March 2009 or Newer.
*This is not the Book "A More Excellent Way". It is a Study Guide to designed to Accompany "A More Excellent Way".