---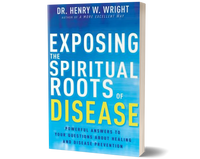 The beginnings of Revival are here and it is coming to our nation and to the world! We believe this Revival will be driven by the Body of Christ, people just like you, in addition to Christian leaders.
We feel led by God to sow into a worldwide Revival by giving away 100,000 copies of Exposing the Spiritual Roots of Disease. The message of this book releases hope for health and healing in God, and we believe our world is ready to hear God's truth.
Be in Health and Hope of the Generations Church is choosing to sow bountifully, will you join us?
If you will join us we ask that you make two commitments:
Specifically ask God to tell you the person to whom you should give a book and write down their first name. Commit to give this person the book.
Commit to pray regularly for this person that they will have an open heart to receive the message of this book.
Who has God put on your heart to give a book to?
*Limit 6 per customer. Shipping and Handling Fees to Apply.*
(To adjust the quantity: "Add to Cart," and then select "View Cart")