---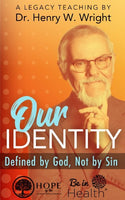 Our Identity
Defined by God, Not by Sin
 In Christianity, what we are taught to believe about our identity as a child of God often does not match the reality of our lives. If the hypothetic idea was true that our old man was completely gone when we were born again, then there would be no sin in our lives. 
 Instead, everyone has something in their lives that does not line up with the Word of God. We do not want to serve sin, but we often follow after thoughts of temptation that contradict the Word of God. So what are we going to do with sin? Will we become one with it, or can we separate ourselves from it and allow our identities to be formed into an extension of the living God?
 In this teaching on Our Identity, learn to be defined by the Word of God instead of by our sins. Learn what God has said about us as His sons and daughters and about the sanctification process so that we can be changed "from glory to glory." 
 The imperfect aspects of our lives are not part of our identity—they are not part of the identity that Father God established for us before the foundation of the world. We can learn to work out our salvation daily with "fear and trembling" so God's nature can be manifested in our lives on the earth.  
 Our Identity is one of Dr. Henry W. Wright's best teachings. This brand-new, never-before-released book has been 25 years in the making. Our Identity is part of the Legacy Series by Dr. Wright.