---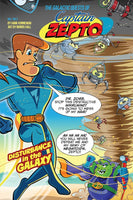 About:




The dastardly Dr. Zorb has a new trick up his sleeve… he is sending out his army of negatoids to bring misery to people all over the earth. Captain Zepto and the Light Brigade are the only ones who stand in the way of the imminent destruction of kids and families across the globe!

Using their fast thinking, space gadget skills, and Zepto's giant hair dryer, the crew is determined to stop Dr. Zorb. But will the evil doctor's plan prove to be too strong for them this time? Will their powers be able to stand up against these destructive pests? …And will Zepto step away from the mirror long enough to fight?

Climb aboard the quirkiest spaceship in the galaxy with Zepto and the crew as they blast off on another galactic quest for good!